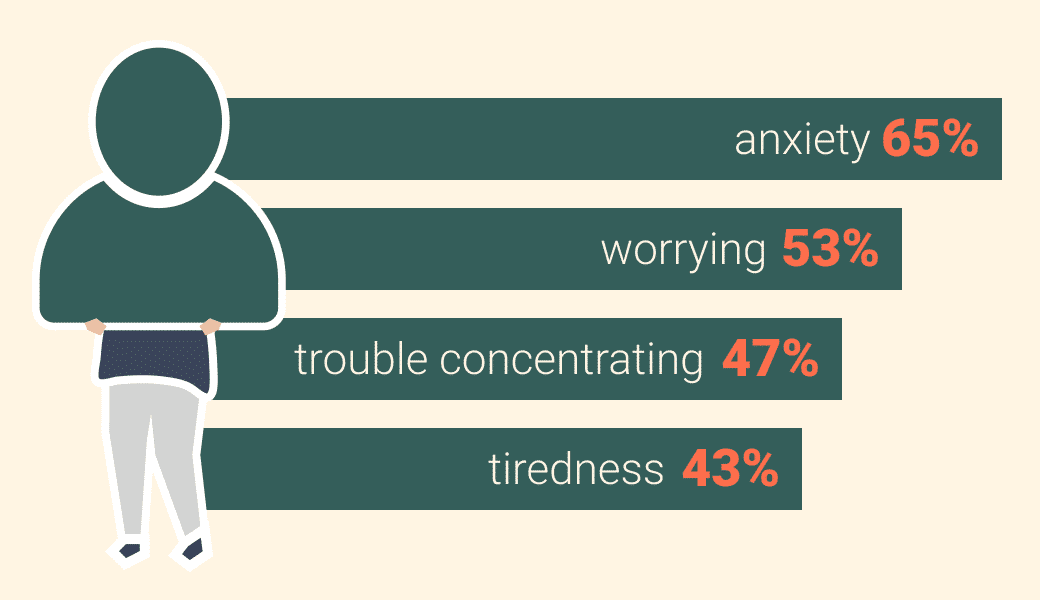 To give teams and organisations interested in promoting mental health wellbeing amongst their staff a sense of what might be going on in their coworkers' heads, we decided to publish last month's numbers on which mental health issues people in the workplace say they have experienced.
This analysis was collected from people who have contacted a mental health professional through their employer. All of the information is gathered anonymously and discreetly. Find out more about how and where the information was collected at the end of this article.
The top four main mental health issues in November – anxiety, worrying, trouble concentrating, tiredness – do not come as a surprise to our psychologists. With some changes from month to month, these mental health issues are often at the top. Such fluctuations mostly appear during holidays, including summer months and Christmas time.
Let it be said that these numbers are quite average across the board, meaning that these indicate a "decent" to "good" place to work at. After all, these are answers from employees who work in establishments that care for their employees' mental wellbeing.  
Main issues in the workplace
The top issues in November were anxiety (65% of employees) and worrying (53% of employees). These issues quite often go hand in hand, though not always. For example, you can often be in a state of worry without being anxious. But extreme worrying may induce anxiety. 
Whatever the case, if we feel anxious, worried, or both due to constantly being on guard, our performance is challenged. This can lead to trouble concentrating (47% of employees) and feeling tired (43% of employees).
When you think about how when being constantly concerned with topics that affect you due to anxiety or worry, it makes sense that there is limited space to concentrate on the task at hand. The mind just keeps drifting back to the things that bother you, and thinking of distressful topics around the clock is frankly tiresome.
See below the full list of mental health issues and their weight in November 2021 by people who have opted to talk to a mental health professional.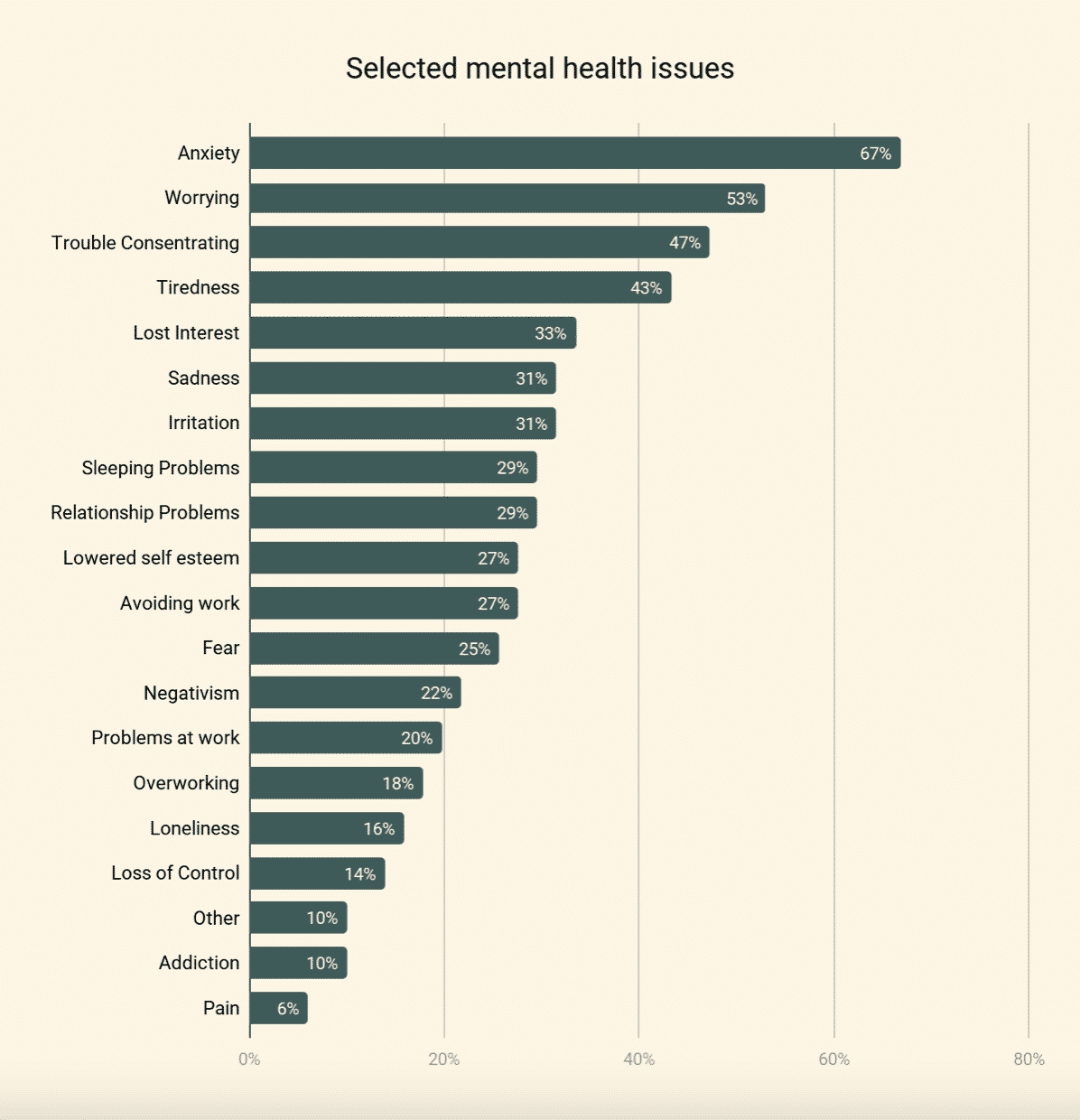 Issues that present together
The 21 mental health issues listed above, or lets say keywords for simplicity, have varying degrees of correlation between themselves. As discussed before, anxiety and worrying quite often go hand in hand. For example, 81% of people who have indicated that they feel constant worry, also say they feel anxious. 
Here is a list of keywords that people have indicated in November that have a 100% of correlation. This means that when they have selected a specific issue, it always accompanies another matter.
– Those who said they feel irritation, also said they are anxious.
– Fear always comes with a sense of worry.
– Loneliness is accompanied by worrying and sadness.
– If a person indicates a loss of control, they also have trouble concentrating and are in constant state of worry.
We will post more information on the interdependence of keywords and other correlations starting from January.
How the information was gathered
This information is gathered through organisations that have selected to provide their employees with professional mental health support through Siffi. All of the information abides strictly to discretion and anonymity. We take the trust that has been given to us seriously. 
The aforementioned 21 keywords are used as the first step in a consultation to give the mental health professional a head start. Any person contacting a healthcare professional selects relevant keywords to indicate the topics they want to discuss. There is no restriction (minimum, maximum or otherwise) in selecting suitable keywords for a consultation. On average, in November people selected 5.5 keywords. 
For the mental health professional, these keywords indicate if the person contacting them has a specific problem or has a wide range of issues that, when combined, can present a set of symptoms, which in turn can give cause to a deeper concern.
For example, tiredness, loss of interest and trouble concentrating might indicate stress or mood disorders. Feeling tired and sleeping problems can go hand in hand, but not necessarily, and it is insightful if a person indicates tiredness without having any trouble sleeping, because that might mean they are experiencing mental exhaustion. 
Just for kicks and number buffs, here's a table that shows how many keywords people selected when answering.