To give teams and organisations interested in promoting mental health wellbeing amongst their staff a sense of what might be going on in their coworkers' heads, we decided to publish last year's numbers on which mental health issues people in the workplace say they have experienced.
This analysis was collected from people who have contacted a mental health professional at Siffi via their employer. All of the information is gathered anonymously and discreetly. Find out more about how and where the information was collected at the end of this article.
The top four main mental health issues in 2021 – anxiety, worrying, trouble concentrating, tiredness – do not come as a surprise to our psychologists. With some changes from month to month, these mental health issues are often at the top. Such fluctuations mostly appear during holidays, including summer months and Christmas time.
Let it be said that these numbers are quite average across the board, meaning that these indicate a "decent" to "good" place to work at. After all, these are answers from employees who work in establishments that care for their employees' mental wellbeing.
See below the full list of mental health issues and their weight in 2021 by people who have opted to talk to a mental health professional.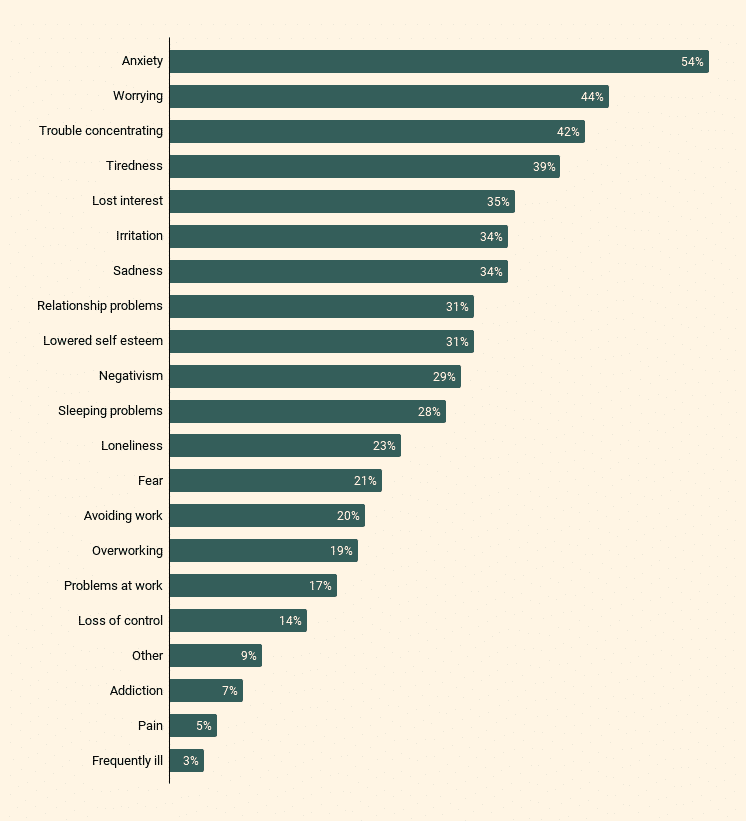 All emotions and issues, that are mentioned in the table above, are normal in everyday life. They become a problem when they persist for a long time and start to negatively affect our everyday life.
The top issues in 2021 were anxiety (54% of employees) and worrying (44% of employees). These issues quite often go hand in hand, though not always. For example, you can often be in a state of worry without being anxious, but extreme worrying may induce anxiety.
Whatever the case, if we feel anxious, worried, or both due to constantly being on guard, our performance is challenged. This can lead to trouble concentrating (42% of employees) and feeling tired (39% of employees).
When you think about being constantly concerned with topics that affect you due to anxiety or worry, it makes sense that there is limited space to concentrate on the task at hand. The mind just keeps drifting back to the things that bother you, and thinking of distressful topics around the clock is frankly tiresome.
Next, we will explain some of the main mental health issues a bit more thoroughly.
Anxiety
Anxiety is defined as apprehension over an anticipated problem. It involves worrying, feelings of insecurity and fear of losing control. Fear is a reaction to immediate danger, whereas anxiety is about a future threat.
People who suffer from anxiety start looking for threats in the environment and are very receptive to each stimulus that may represent them. Anxiety can also be caused by an inner value conflict or trauma.
We will add more statistics and information about anxiety in 2021 soon.
Worrying
It's normal to worry from time to time, but worrying can be persistent and become a permanent and uncontrollable part of life. People who worry excessively can constantly think of worst-case scenarios and "what ifs". It is also typical to wait for the worst and prepare for it.
We will add more statistics and information about worrying in 2021 soon.
Trouble concentrating
Trouble concentrating affects people in a variety of ways. Some may experience problems with concentration at work or while studying, while others have trouble during their leisure time.
If a person has difficulties with finishing everyday tasks or is restless, it may indicate trouble in concentrating. The person might also strain to recollect recent events or remember where things are placed. It is also common that the person struggles to make decisions and has a constant lack of energy.
Trouble concentrating is often accompanied by stress, anxiety and loss of control.
We will add more statistics and information about trouble concentrating in 2021 soon.
Tiredness
If long term fatigue isn't due to sleeping problems, then it is reasonable to look more deeply at what parts of people's lives are exhausting. This can be related to a person's work-life or may have something to do with personal issues, such as problems with family life. Tiredness can also be caused by life events like grief or breakdown in a relationship. Tiredness is often influenced by lifestyle.
Psychologically, tiredness is a natural conclusion when a person has experienced long term stress, anxiety or worrying. Tiredness is not influenced only by negative stress, but also positive, as in moving home or getting married.
We will add more statistics and information about tiredness in 2021 soon.
Loss of interest
Loss of interest is a deeper symptom of something that has been mentally very difficult in the person's life for a long time. It's commonly expressed through not feeling joy in things that used to give positive emotions. If pastimes that used to be relaxing or time spent with loved ones don't give positive emotions anymore, it can lead to sadness.
We will add more statistics and information about loss of interest in 2021 soon.
Irritability
With irritability comes various behavioural patterns and feelings such as disappointment and aversion (reluctance), trouble concentrating, struggle to accommodate other people's wishes, or when changing plans – tiredness, over sensitivity and tension.
An easily irritable person may feel fine at one moment and then suddenly overreact to the slightest issue. This creates even more tension in that person's life, creating a snowball effect of more sensitivity and stress.
Irritability can be an indication of multiple mental health problems like stress, depression or addiction.
We will add more statistics and information about irritability in 2021 soon.
Sadness
Sadness is an emotional state which leads to crying, social withdrawal and slowing down all activities. Sometimes people also experience emotional pain and feelings of loneliness.
The goal of sadness is to facilitate the process of loss – for example, the ending of a friendship or a romantic relationship or also losing resources or status. It has been found that sadness helps to improve attention to capture details, be less biased by prejudice, maintain orientation to goals and encourage generosity towards others.
We will add more statistics and information about sadness in 2021 soon.
Relationship problems
Some of the most common relationship problems include jealousy, economical problems; related to sexuality, children, infidelity, violence, and many other reasons.
We will add more statistics and information about relationship problems in 2021 soon.
Sleeping problems
Most people experience temporary and short-term sleeping problems. This kind of short-term insomnia is one of the ways to respond to challenging life events.
Insomnia can easily reappear and last for longer periods of time. It can be exhausting to the person and disturb everyday life, culminating with a lack of energy for socialising, participation in hobbies or other activities.
We will add more statistics and information about sleeping problems in 2021 soon.
Self-esteem
Self-esteem is a person's subjective opinion of himself and his value. It shows how much a person likes himself regardless of the situation he is in at the moment. Self-esteem also indicates how much a person thinks he can cope with everyday challenges and whether he thinks he deserves to be happy.
In case of low self-esteem, a person doubts his abilities and makes decisions based on these limiting beliefs. A person may not dare to accept new challenges because he does not believe that he can cope with them. People who have low self-esteem often feel that everyone else is better than them.
Problems can also arise in relationships because one's needs are not met. People with low self-esteem don't dare to talk about their needs and the needs of others are considered more important than one's own.
We will add more statistics and information about self-esteem in 2021 soon.
How the information was gathered
This information is gathered through organisations that have selected to provide their employees with professional mental health support through Siffi. All of the information abides strictly to discretion and anonymity. We take the trust that has been given to us seriously.
The aforementioned 21 keywords are used as the first step in a consultation to give the mental health professional a head start. Any person contacting a healthcare professional selects relevant keywords to indicate the topics they want to discuss. There is no restriction (minimum, maximum or otherwise) in selecting suitable keywords for a consultation.
For the mental health professional, these keywords indicate if the person contacting them has a specific problem or has a wide range of issues that, when combined, can present a set of symptoms, which in turn can give cause to a deeper concern.
For example, tiredness, loss of interest and trouble concentrating might indicate stress or mood disorders. Feeling tired and sleeping problems can go hand in hand, but not necessarily, and it is insightful if a person indicates tiredness without having any trouble sleeping, because that might mean they are experiencing mental exhaustion.
Just for kicks and number buffs, here's a table that shows how many keywords people selected when answering.