Most people will agree with the importance of well-being and mental health in the workplace.
When it comes to actually investing in tools and processes that will help create a mental health culture, though, some companies are still slightly reluctant.
It is easy to miss the big picture and focus on yet another expense. After all, well-being and mental health are not easy things to precisely measure, and we live in a world that loves numbers and KPIs.
So if you find yourself feeling like you are fighting an uphill battle to try and implement more mental health offerings, here are our most heard pushbacks and favorite comebacks:
PUSHBACK 1: IT IS NOT A PRIORITY RIGHT NOW
IF NOT NOW, WHEN?
Usually? When it is too late. We tend to fix the problem rather than try and prevent it.
Employees are in grave need of renewed faith in their companies and their purposes.
Most surveys and researches show that building trust, showing care, building a strong culture, and focusing on well-being, are some of the main priorities in the workplace for 2023.
We have just faced a global pandemic that deeply impacted the way we worked, thousands of workers are now working online or in a new hybrid way, and we have seen surges of resignations as employees questioned their goals and values …
People in general and younger generations in particular, such as Gen Z entering the workforce in the last few years, are showing some of the lowest rates of satisfaction and loyalty towards their employers over the last 20 years. (see graph below)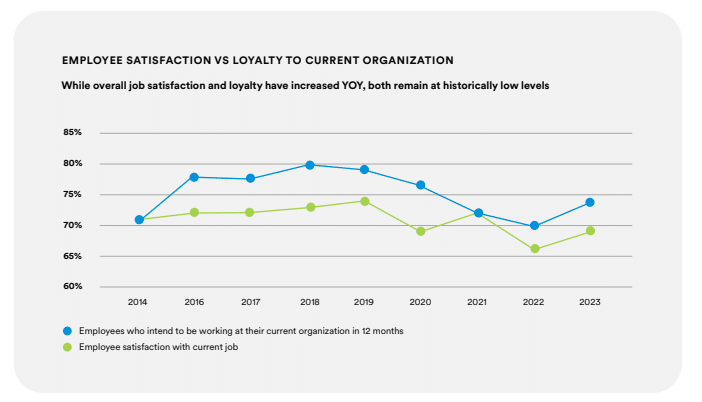 Also, even if one may seemingly have a "benefit" like health insurance, let's keep in mind that this instrument works for already advanced mental health issues a person has. The barrage of steps to take to end up meeting a psychologist, including waiting times, etc make an effective instrument for those who are already suffering. But it does matter to pay attention early enough, which will save both organization and the employee from the escalation of mental health problems, and hence absenteeism and presenteeism-related costs to a company.
PUSHBACK 2: IT IS TOO EXPENSIVE!
BUT CAN YOU AFFORD NOT TO CARE?
Of course, there is a cost to taking good care of people. But a lot of it is also behavioral and small but powerful changes in communication, that are completely free.
Companies' biggest expense is labor. Your staff is your main source of cost but also part of your essentials. Why spend so much money on hiring talents, if you are not going to make sure they do the work to the best of their potential?
If your employees are happy they will be more productive and more creative science, (and common sense), show. They will also talk positively about the company which is great word of mouth, PR, and marketing in general.
In today's world, many companies are cutting down on rent, going hybrid or fully remote. Why not re-invest parts of that budget into building a strong mental health culture within the company?
It is essential to make sure that whatever money the company invests in culture and well-being is well spent. And for that, it is important to understand the particular needs and expectations of your employees and teams rather than fall for well-being washing measures that will not be used and make no difference.
Multiple evidence also shows a very high ROI from making these investments – after all, the money you spend on mitigating mental health-related productivity cuts has a lot of leverage. Any day missed from work or work without the ability to concentrate on your tasks will scale quickly into large figures.
For instance, One UK study found that a company with 500 employees would see a net return of £347,722 in savings after an initial investment of £40,000 into workplace mental health interventions due to decreased absenteeism and presenteeism. https://www.frankie.health/blog/roi-of-employee-mental-health
PUSHBACK 3: BUT WE ALREADY HAVE PROGRAMS IN PLACE
Alright, that sounds good. Some companies indeed have a holistic and well-designed mental health program in place. Others often say that they have mental well-being months and workshops, or they allow people to bring in checks from psychological counseling.
Addressing the mental health environment in an organization is quite a challenge. It is a holistic topic that spans across ease of access to a specialist, the right level of assistance (preventative, clinical?), activation and awareness raising, coaching of mid-level management and team leaders, the general attitude of the company, and conveying it in a supportive manner to employees.
So, there is a complex of measures that need to be applied to make it really efficient. A few pieces of the puzzle alone will not suffice, as this will not address the friction that is usually associated with the usage of the service. Low engagement in turn will mean that most of the costs related to mental well-being are internalized by the organization.
PUSHBACK 4: IT IS NOT WORTH IT
RESULTS TALK FOR THEMSELVES
Have a look at that what is easily measured currently in your company:
– absenteeism
– sick days
– conflicts in the workplace
When people feel good and motivated at work they don't call in sick as much. It is as simple as that.
Mental health, stress, and well-being remain some of the main reasons for employees to miss work for short to long periods. As we can see in the data below from a 2021 report by The Chartered Institute of Personnel and Development in the UK.
source https://www.cipd.co.uk/Images/health-wellbeing-work-report-2021_tcm18-93541.pdf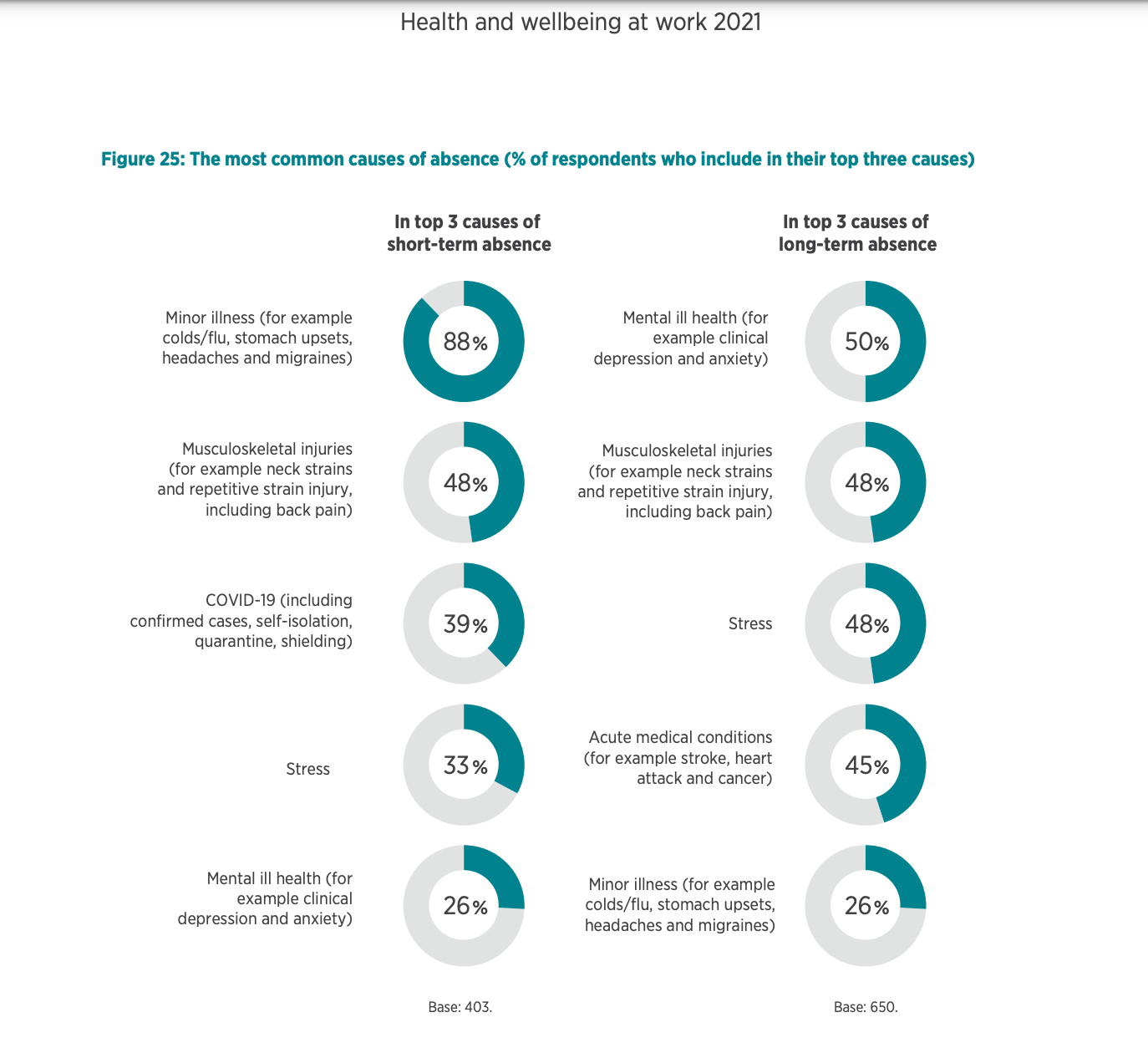 A recent study by Deloitte shows that for every 1$ invested, the company gets a return of 4$. Also, this number is further proven by an analysis conducted by NSC and NORC at the University of Chicago, which reveals organizations that support mental health see a return of $4 for every dollar invested.
PUSHBACK 5: IT IS NOT OUR ROLE
WHAT KIND OF LEADER DO YOU WANT TO BE?
This goes down to the kind of company you wish to be in and the values that you have decided to work and live by.
Of course, no one expects the company to fix each trauma and stress of their employees but facilitating access to support and a healthier work-life balance is part of the job of a good employer.
In their 2023 report, the insurance company MetLife shares the data below showing that employees expect to feel cared for by their company.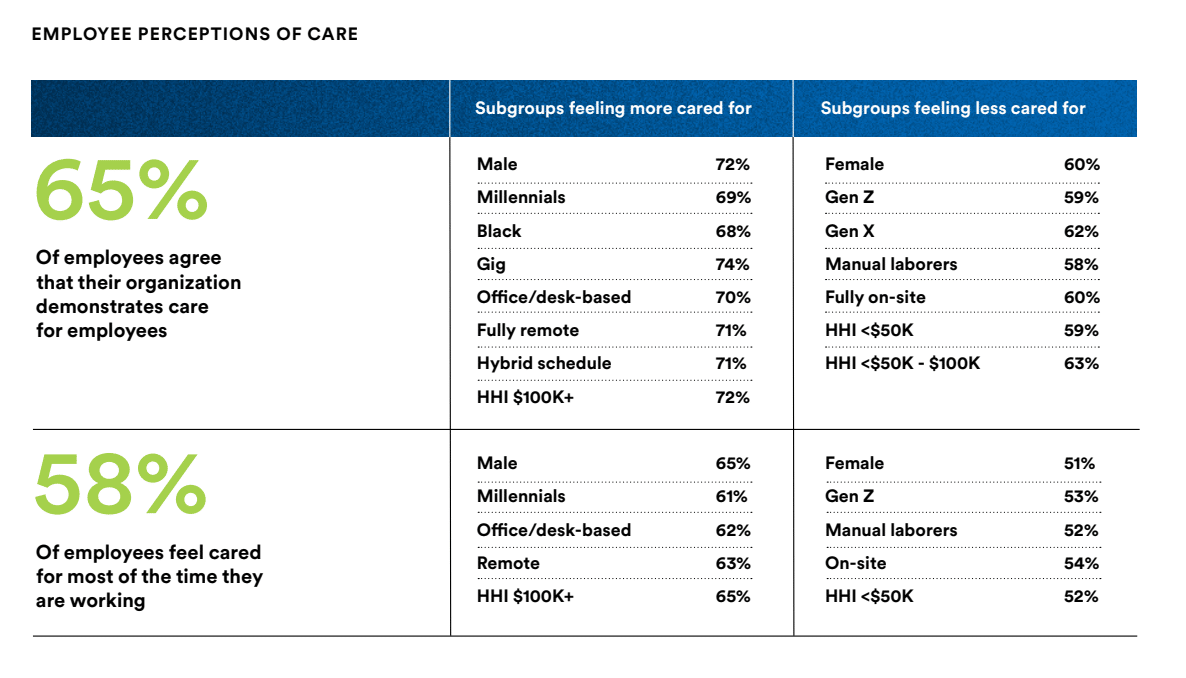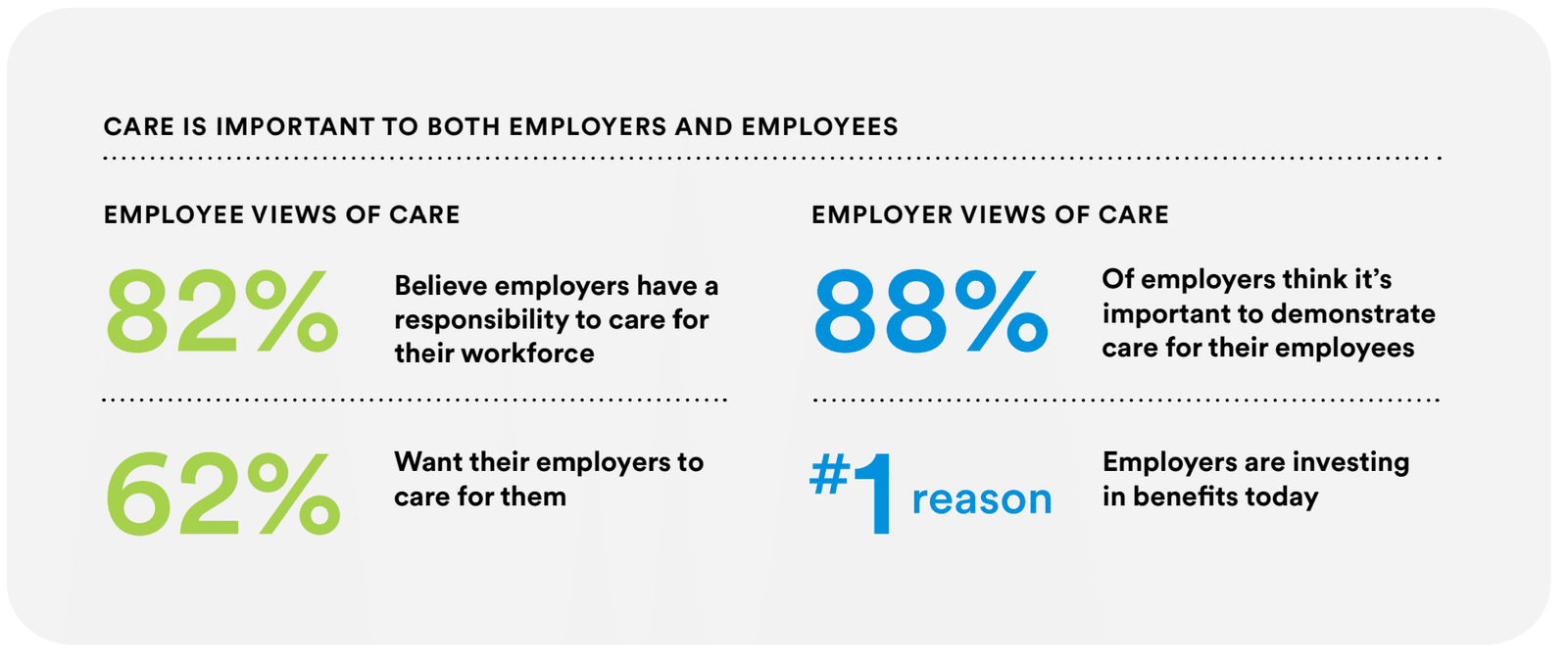 REMEMBER WHAT IS AT STAKE
Indeed, the return on investment of a well-being culture in the workplace is not as easily calculated as in other areas of the company.
Just as the workplace is changing, employers' measuring tools need to evolve as well.
The future of work: productivity and innovation, is at stake after all.